As Summer blooms, we are so delighted to see so many of our practice members return to their passions, holidays, and activities – we are always here to book you in for an adjustment to prepare you for your next adventure this season!
We have a few big announcements in the clinic, starting with a big heartfelt congratulations to our very own Alanna Blackburn and Sergio Gonzales, who welcomed their first child this spring! Happy 1st Mother's and Father's Day to them!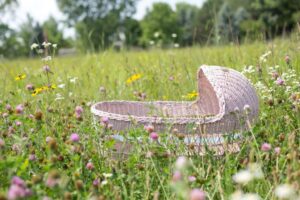 We also wish TerriAnne Soukoroff safe and happy travels after over 20 years of working with Glow, and embarking on her next adventures with her partner! She will be missed fiercely, and we couldn't be happier for her in all her exciting new adventures in the wilderness across the globe! 
On another exciting note, we are thrilled to welcome our new RMT, Katelyn Schatz !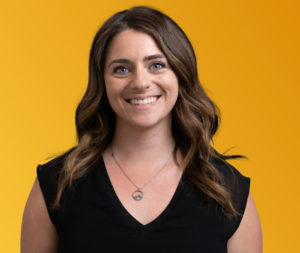 I am Katelyn!
I have been practicing massage therapy in a multidisciplinary setting since 2019. I am originally from Calgary and spent my summers and many weekends in the Columbia Valley in the East Kootenays. I moved out to Kelowna BC in 2011 to attend UBCO where I completed my Bachelor of Human Kinetics Degree. I then enrolled in RMT school at the Vancouver Career College, graduating with a 3000 hour Registered Massage Therapy Diploma. I successfully completed the College of Massage Therapists of BC board exams and have been practicing ever since in Kelowna and now Calgary. I am also an active member of the Massage Therapists Association of Alberta.
Another fun fact, I am also a group fitness instructor! My favorite is teaching spin, but I have also taught various other class styles such as bootcamp, strength, and mobility/pilates. If you have any questions about any stretches/exercises I would be happy to help you out! 
I enjoy helping and educating every type of person about the importance of self-care and maintaining a balanced, healthy, active lifestyle. I believe everyone deserves to live an active and adventurous life without stress and pain!
In my spare time you can find me hiking, snowshoeing and paddle boarding with my rescue dog Teddy, skiing, in a spin class, and checking out some local breweries!   
Katelyn performs deep tissue, myofascial release, cupping, IASTM/scraping, sports therapy, prenatal, TMJ (jaw pain), and treats every age group.
An introduction to Acupuncture  from Michaella Rezanoff, R.Ac: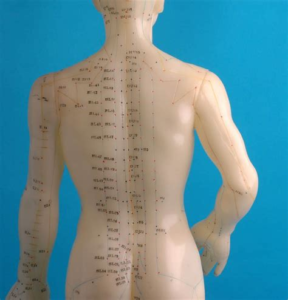 Acupuncture for Muscle Aches and Pains
What does a kink in a hose do?
It keeps the water/nutrition from flowing to the plants and eventually they wither. When the plants receive regular water they will thrive, grow, and flower.
The same rule applies to our body. Energy (Qi) flows in meridians (invisible channels) through a series of pathways inside our body with blood.
When we get a "kink" in the energy flow of a meridian, this prevents optimal nutrition and information from flowing to that area of the body creating symptoms and signs such as muscle
aches and pains.  These "kinks" may be caused by, for example, repetitive motions, gardening, physical trauma, scars, injuries/sports injuries, poor posture while standing, laying, or sitting in one position for long periods of time.
Acupuncture points are found on the skin surface along the meridians. By inserting very fine, flexible stainless steel filiform needles into the skin at specific points, this unblocks and restores the
proper flow of Qi and blood throughout the body, encouraging a natural healing alleviating the muscle aches and pains.
Acupuncture is used for various physical, mental, and emotional conditions.
To see if Acupuncture will help relieve your aches and pains, book an appointment today with Michaella Rezanoff, Registered Acupuncturist.
Summer Recipe: Stuffed Portobello Mushrooms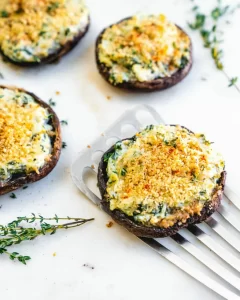 4 portobello mushrooms
½ cup wild rice
3 cups spinach, roughly chopped
½ cup crumbled goat cheese
2 shallots, minced
4 cloves garlic minced
¼ water chestnuts, chopped
2 tablespoons balsamic vinegar
2 tablespoons olive oil
½ cup panko breadcrumbs
Set the oven to 375 degrees. Remove stems from mushroom caps and set aside. Marinate the caps in a shallow dish with 1 tablespoon olive oil and 1 tablespoon of the vinegar, salt and pepper. Cook wild rice and set aside. Chop the stems that were set aside, combine with spinach, shallots, and garlic and saute until softened. Combine spinach mixture with wild rice, water chestnuts and goat cheese. Lay marinated mushroom caps on a parchment lined sheet and fill with wild rice, spinach and cheese mixture. Mix breadcrumbs with remaining oil and vinegar and press into tops of stuffed mushrooms. Bake in the oven for 20-25 minutes, until the caps are soft and the breadcrumbs are golden brown. Serve with a leafy green salad. 
Here's to a beautiful, fun, community-filled summer for everyone in the Glow family!